Meet The Team
Dr Khurram Usman, Principal Dentist
Getting on the Path to Dentistry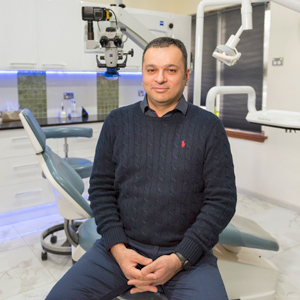 A native of Pakistan, Dr Usman completed his dental education there and then worked in Oman. While he lived there, he specialised in general and emergency dentistry. He then moved to Melbourne and studied at the Asian-Pacific Institute of Dental Research, completing the Australian Dental Council examinations in 2011.
For Dr Usman, the most fulfilling part of being a dentist is getting patients out of pain and restoring their oral and dental health.
It's gratifying to see that our patients appreciate the remarkable changes dental care can make in their lives and their appearance."
Keeping Abreast of the Latest in Dentistry
So he can deliver the most up-to-date care to his patients, Dr Usman has taken numerous courses at Sydney University. He's studied subjects including:
Aesthetic dentistry
Endodontics
Implant dentistry
Infection control
Microscope dentistry
Enjoying an Active Family Life
When he's not seeing patients, Dr Usman enjoys spending time with his three young children, travelling and cycling.
Dr Pabita Thapa
Pabita graduated with a bachelor of dental surgery in 2014 from Kathmandu University, Nepal. She is registered with the Australian Dental Board. Pabita is a very passionate dentist who is known for her cosmetic dental work which can change the smile forever. She has a special interest in restorative dentistry and root canal treatment. She is a very gentle and caring dentist who loves working with nervous patients and kids. Pabita has undertaken numerous continuing education courses to achieve updated new skills in dentistry and provide highest quality treatment to her patients. Apart from dentistry, she loves reading books and spending time with her daughter and husband.
Dr Ankit Goyal
Having completed his Bachelors of Dentistry with numerous awards and accolades, Dr Goyal believes strongly in patient satisfaction. He was also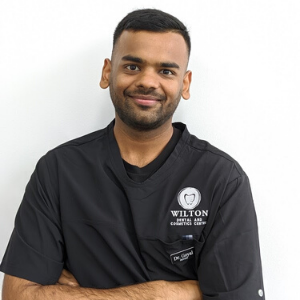 awarded one of the best clinicians during his placements and is recognised by his patients as someone who is committed and trustworthy.
He now takes special interest in:
Veneers/crowns
Braces/Invisalign
Implants.
Being a technology enthusiast, he always uses microscope during his consultations and check-ups to diagnose various underlying problems, which otherwise can go missing.
"I love each and every aspect of dentistry – ranging from interacting with all types of people to delivering functional and aesthetic smile. For me, dentistry is not a profession, it is my passion. I love going that extra mile, spending those extra hours to fine tune my treatment plan, to make sure patients get the best of what they want."
Contact our Wilton practice today to schedule a same-day appointment!

Wilton Dental & Cosmetics | (02) 4630 9707