General Dentistry at Wilton Dental & Cosmetics

At our modern, family-friendly practice, we feature a comprehensive array of dental services to help give you a healthy, beautiful smile.

Checkups and Cleans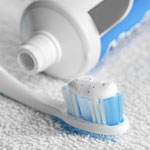 While it's essential to brush and floss your teeth each day getting preventative care such as checkups and cleans can go a long way towards keeping your smile healthy. During this appointment your dentist will look for early signs of decay, oral cancer, gum disease and other issues, as well as eliminate the calculus that you can't remove with a toothbrush. We also will polish your teeth and provide advice about oral hygiene habits.

Fillings
If you have a tooth that's been damaged by decay, we offer composite fillings to close any space that bacteria may have entered. The fillings are safe as they don't contain mercury, are long-lasting and can be colour-matched to your teeth.
Fissure Sealants
These thin plastic coverings can help to prevent tooth decay. They are most commonly used in kids' teeth. They are "painted" on to each tooth. Once they dry and harden they create a protective bond on the surface of the tooth.
Mouth Guards
Whether you play contact sports or participate in recreational activities that may leave you susceptible to injuring your mouth, we offer mouth guards. These custom-fitted oral appliances are made of a sturdy material to protect your teeth and gums.


Teeth Grinding
Clenching or grinding your teeth, a habit that often occurs during sleep, can damage your teeth. The clinical name for the habit is bruxism, and it can cause jaw pain, headaches, earaches and cracked teeth. We can create a customised night guard that you can wear that will prevent clenching and grinding while you sleep.


Periodontal Treatments
If you have gum disease, we provide root planing, an effective treatment that can help you enjoy better oral health. The first step is gently removing the calculus and plaque on the surface of the tooth root and inside of the periodontal pocket. Rest assured that you'll be adequately numbed and won't feel a thing. The procedure takes about 60-90 minutes to complete. You may be prescribed antibiotics, and we'll advise you on mouthwash rinses and other home care.
Want to Learn More?
Our general dentistry services can help you achieve and maintain optimal health. Contact Wilton Dental & Cosmetics today for a same-day appointment!

General Dentist Wilton, Picton, Appin, Tahmoor, Douglas Park, Wollondilly Shire NSW | (02) 4630 9707