Kids Dental at Wilton Dental & Cosmetics
We love to help kids establish and maintain healthy teeth and mouths at a young age.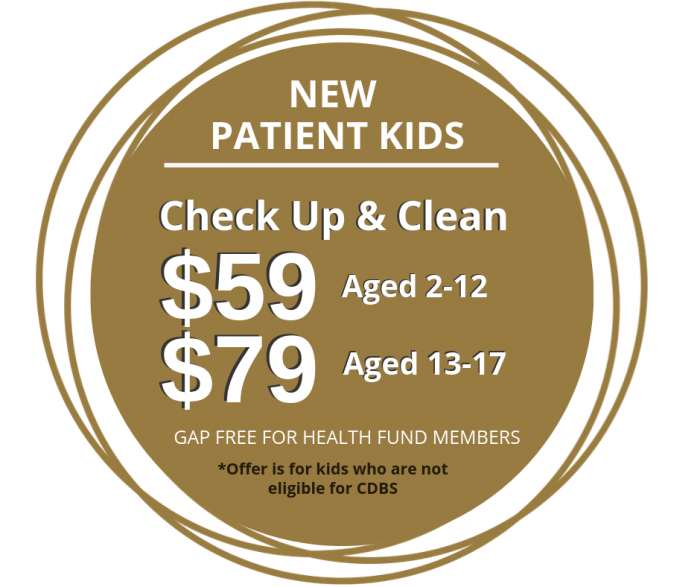 Our practice is 100% family-friendly and offers:
All kids general dental services
Goody bags for every child
Coloring station
Dental room TV (we play the kiddies favourite show)
Rides in the chair
Kids prices
Bulk billing for kids eligible for the Child Dental Benefits Schedule.
What you should know about kids dental:
Did you know that kids should be getting their teeth checked as early as 2 years old? This is to ensure the jaw is developing correctly and the child starts developing a positive relationship with the dentist. Even bringing the kids along to your appointments is beneficial for building confidence and trust.
At Wilton Dental & Cosmetics, we like to focus on prevention when it comes to teeth. Brushing twice a day, flossing and being mindful of what you put in your mouth is essential to maintaining healthy teeth and gums. From about the age of 6, kids will start getting their adult molars, these can have deep grooves that are difficult to brush and prone to decay. A quick and easy preventative measure is fissure seals to protect the teeth. Ask about them when you visit next.
Kids services we provide:
Check Ups and Clean
Fissure Sealants
Fillings
X-rays
Extractions
Root Canal Therapy
About the Child Dental Benefits Schedule (CDBS)
It is a Medicare initiative that entitles eligible kids (between ages 2-17) up to $1000 of FREE general dental capped every 2 calendar years. If you receive family tax benefits part A or another relevant government payment, your child may be entitled. Call us with your Medicare number and we can check. Find out more here.


Kids Dental Wilton, Picton, Appin, Tahmoor, Douglas Park, Wollondilly Shire NSW | (02) 4630 9707