Major Dentistry at Wilton Dental & Cosmetics
At our modern, family-friendly

practice, we feature a comprehensive array of dental services to help give you a healthy, beautiful smile.

Extractions
Whether you have wisdom teeth that are erupting or a tooth that's weakened, an extraction may be in order. We'll assess your oral health to determine the best way to perform the extraction. X-rays will provide a deeper look; the X-rays we take are low-radiation and are essential in helping us to understand your situation. You will be sufficiently numbed, and we won't proceed until we are certain that you can't feel a thing. A simple extraction takes just 20-30 minutes.
Prior to having the extraction, ensure you have done the following :
– Prepared soft foods : you may find it difficult to have hard or chewy foods for 2 days following the procedure.
– Organised travel – recommended after having multiple teeth removed
– Have a meal that is high in nutritional value.
Ensure you have told your dentist about any relevant medications or medical conditions
Can I bring headphones and listen to music during the procedure?
YES! We want our patients to be as comfortable as possible so we can put your favourite music on to play inside the clinic also upon request.
What should I expect during the extraction?
When you enter the surgery for your appointment you will be taken into a private room where all the precautions and requirements will be explained and you will have a chance to ask any final questions. Following this we will get you comfortable and begin the procedure. You will be numbed up, so you will not be able to feel the procedure. You WILL however feel slight pressure around the area but you will not experience any pain. The dentist will then work to get the tooth removed. Once the tooth is removed you will be required to bite on gauze for 20 minutes.
After the extraction
Following the procedure, you will be asked to wait around an you will receive your medications and Post Operation Instructions will be given for you to follow strictly.
If you have any questions or concerns following an extraction, contact us on 02 4630 9707 so that we can assist you as best we can.
For post-extraction care please click here.

Dental Crowns
A crown is an ideal option when more than half of your tooth structure has been lost or if you have cracks, discolouration or a filling that needs to be replaced.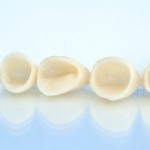 Your tooth will be prepped to receive the crown; then we'll take an impression of it. We use state-of-the-art technology to craft our crowns. At the second visit, we'll place the crown, ensuring it feels comfortable and that your bite aligns.
Dental crowns are completed in two steps. Step 1 is the preparation of the tooth. Step 2 is the cementation of the crown.
Step 1 : The procedure – 60 minutes to 90 minutes required
When you enter the surgery for your appointment you will be taken into a private room where all the precautions and requirements will be explained, and you will have a chance to ask any final questions. You will then be laid down and numbed up for the procedure to ensure a comfortable experience – music available upon request. The dentist will the take an impression and begin to reduce the size of the tooth. Once completed a scan will be taken to send the laboratory to get the crown made. They will then place a temporary replacement on which will remain in for 2 weeks.
Step 2 : The cementation – 30 minutes required
After 2 weeks, we will remove the temporary crown and clean around the natural tooth. We will place the permanent crown on top giving the natural tooth its protective layer
How do I take care of my crown?
Oral hygiene is the largest factor effecting the success rate and term of the crown lasting. It is important that you are flossing daily and brushing 2 times a day and avoid smoking.
6 monthly visits to the dentist are crucial once you have your dental crown to ensure the gums are healthy and the crown will last.

Root Canal Treatments
When a tooth root becomes infected, a root canal is performed to relieve pain that's caused by an infection. The primary benefit of the procedure is it can allow you to avoid extraction. We pride ourselves on pain-free dentistry. The area will be cleaned, and the roots will be filled with a material to prevent any other bacteria from getting in. Depending on the severity of the infection, two visits may be required to complete the root canal. The final step is to place a crown over the tooth to protect it against instability or weakening. Root Canal treatment is treated of 2 – 3 appointments
Step 1 : Extirpation and preparation
During this step, the dentist will numb you up and begin to enter the nerve chambers. Here the nerves will be removed and cleaned out. A special medication will be placed to help clear the infection. A temporary filling will be placed for 2 weeks until the following appointment.
Step 2 : Obturation
The final step involves filling the nerve chambers to seal them. Sealing the canals is critically important to prevent them from becoming reinfected with bacteria.
Following a Root Canal Treatment, dentist highly recommend placing a Dental Crown on the tooth as the tooth becomes significantly weaker and has a higher chance of breaking following the completion of the RCT.
Deep Clean / Root Planning
Root Planning which is more commonly known as a deep clean is required when there is infection in the gums. This infection can be a result of poor oral hygiene, large calculus deposits or tight gaps between teeth. A deep clean is done to prevent teeth from becoming loose, abcyst forming and reduces risk of potential heart disease. The procedure is generally done over 2 appointments by cleaning one side of the mouth and then the other.
Want to Learn More?
Our general dentistry services can help you achieve and maintain optimal health. Contact Wilton Dental & Cosmetics today for a same-day appointment!

General Dentist Wilton, Picton, Appin, Tahmoor, Douglas Park, Wollondilly Shire NSW | (02) 4630 9707